#1

Airconditioning Service Company in WA
We service and repair all makes and models from Mindarie to Mandurah
Air Con Installation Perth
Air conditioning installation in Perth is a competitive space. With the hot Perth summers to contend with, many residents opt to get an air conditioning system installed. However, you have to consider some important factors before getting an AC system installed. These include the type of air conditioner, the cost of installation, how long it takes and who to hire.
Installing an air conditioner is a significant decision, so making the right choice is important. If you're looking for Perth's most reliable air conditioner installer, look no further than Mouritz. With over 40 years of experience, you know we can be trusted. Our skilled technicians help guide you through all steps of the process. From assessing your needs and your home to expertly fitting the system onto your house.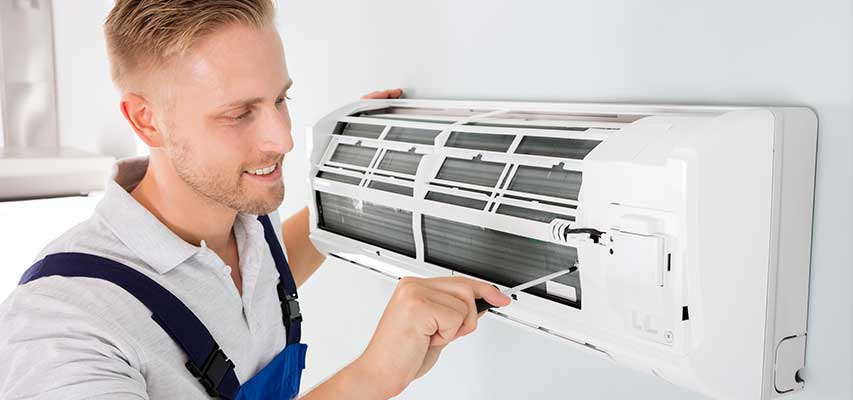 How to install an air conditioner
The exact method for installing an air conditioner depends on the specific model. However, there are general steps that air conditioners of the same type follow. Split systems have a simple installation process whereas ducted and evaporative systems are more complicated.
Split system installation
Split system air conditioners have the fastest and easiest installation process. Rather than being incorporated into the structure of the home, the split system ACs just need to be mounted. Mounting brackets are set up and secured in the locations chosen for the units. Holes are then drilled to connect to pipes and wiring. An indoor and outdoor unit must both be mounted and connected. Sometimes a single outdoor unit can connect to multiple indoor units. After this, the hole is sealed and the split system air conditioner can start cooling or heating the home.
Ducted system installation
Ducted air conditioner installation requires sufficient inspection and planning. Ducted systems are installed into the structure of the home. This means the roof cavity must be thoroughly examined. By doing so, you are able to plan the location of the indoor and outdoor units and how they will connect to the ducts. A hole must be cut in the ceiling for the indoor unit to fit into. Indoor units often split into multiple parts during this process for easier ducted installation. Once both the outdoor and indoor units are situated, they can be attached to the ducting within the house. If a house already has compatible ducting, this can be used. If not, new ducting must be incorporated. Once the ducting has been added and the unit has been connected to wires and pipes, the ducted air conditioner is ready to operate.
Evaporative system installation
Evaporative air conditioning is installed in a similar way to ducted air conditioning. However, evaporative coolers may be installed in a wall or a roof depending on what works better. When installing an evaporative cooler into a wall, you need to include a support bracket. This holds the weight of your cooler. The evaporative air conditioner is then situated in an open window and supported by the bracket on the outside. Once the mounting is complete, the cooler requires the motor and fan to be connected. Side fins are another addition that help to keep the cooler in place against the window. After that, just connect it to the water line and it's ready to go.
Evaporative air conditioners that are installed in the roof are typically connected to the house's ducting system. These are used to cool the entirety of the household. These systems have their own mounting systems to hold them in place. Typically, they need to be installed in a hole in the roof. Once installed, an evaporative cooler must be connected to the ducts, the water supply and the house's wiring.
How much does it cost to install an air conditioner in Perth?
A number of factors affect the cost of installing an air conditioner in Perth. The first consideration is the model you want to install. Different types of air conditioners come with their own installation requirements. Split systems are generally simpler and subsequently cheaper to install. Ducted installation, on the other hand, is more complicated and tends to cost more. Another factor is the size of the air conditioning system you want installed. If you have a large house and want cooling or heating throughout it, AC installation will cost more. A larger system will be required, which necessitates more work from the installers. Installers themselves charge different rates depending on the company they work for. Factors like brand recognition and the local market affect the costs they set for air conditioning installation.
How long does it take to install an air conditioner?
The amount of time it takes to install an air conditioner depends on both your house and the system in question. The structure of your house may make it easier or harder to install certain systems. This is more of a concern for ducted and evaporative systems. They are typically installed in the roof, so roof accessibility affects installation time. Another factor is existing ducting inside the house. If the ducting is compatible with the new air conditioning unit, this may shorten the installation process. However, if it's incompatible then removing the ducting will increase the installation time. For a larger house, the process of incorporating ducting may extend the installation time. This is because it takes longer to make the ducts reach all the rooms. The model of air conditioner being installed ties into this. While a split system can be installed basically anywhere, more planning time is required for ducted or evaporative systems.
Where do you install an air conditioner?
Where you install air conditioners depends on the layout of your home and the model being used. Everyone's home is different and air conditioners must be installed where they function most effectively. Suitable locations are generally determined by the type of air conditioner being installed. Split system air conditioners are versatile when it comes to location. They are mounted on the wall, so can be incorporated into any room where you want heating or cooling. Ducted and evaporative air conditioners typically need access to the home's ducts. This usually means installing them in a central location, like the roof of the house.
What are the dangers of improper air conditioner installation?
Incorrectly installing an air conditioner results in a range of negative consequences for you and your family. Subpar performance, diminished longevity and higher costs are all potential detriments. Improper installation may even be dangerous in certain circumstances. With how common air conditioner installation is in Perth, it's important to be aware of these.
Many parts of the installation process have the potential to cause issues when done poorly. An important, yet often overlooked, part of installation is assessment. Installers need to check the air conditioner for faults before installation. Failure to do this could mean installing a damaged unit. This will result in compromised performance from the very start. Another potential danger is incorrect mounting. If a unit has not been securely fastened, it may fall. A falling air conditioner could damage itself, your furniture or even injure someone. 
An aspect of installation relating to the functioning of your air conditioner is connection. Your AC unit must be properly attached to the relevant ducts, electrical utilities and pipes. Failure to do so means low efficiency, leakage and lacklustre heating or cooling. To ensure your air conditioning unit is installed correctly, it's essential to hire a professional. By hiring reliable experts, you ensure your unit is safely installed and functions optimally.
Mouritz's air conditioning installation
Mouritz is the place to call if you're looking to get an air conditioner installed in Perth. We have spent years developing a reputation as a reliable air installer. Our clients have first-hand experience with our first-rate service. Our installers are highly trained and have a wealth of experience. In addition to being meticulous and effective in the installation process, they also provide guidance. Talk to one of our helpful staff about your requirements and which system best suits your property. This ensures you're making the optimal choice and getting a good deal. Mouritz is able to install a range of different systems in whatever type of property you live in. If you want to get the ball rolling on an air conditioner for your home, wait no longer. Contact us for a home assessment.
Quick Links
What Our Clients Say
Testimonials

1986 – 2017
#1 National
Fujitsu Dealer

2008, 2017 & 2018
#1 WA
Fujitsu Dealer

2013 & 2012
#1 WA
Bonaire Dealer

2011 – 2014
#1 WA
Actron Air
Dealer

2019
Fujitsu: Australia's Most Trusted Air Conditioning Brand
VISIT US
Over 45 years of providing Residential & Commercial Air Conditioning