Air Conditioning Repair Perth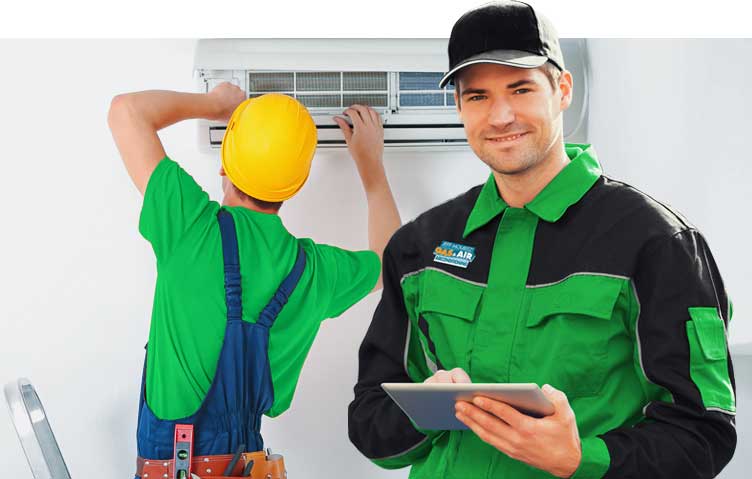 Whether we're at home or at work, all of us rely on air conditioning. Having a functional air conditioner is important for cooling, heating and making sure the air we breathe is clean. If you've experienced a Perth summer, you can attest to the importance of good air conditioning. Air conditioning repairs get our systems working again, while air conditioning maintenance keeps our systems in top shape throughout the year.
Air conditioning maintenance
Air conditioning maintenance is the best way to stay on top of your air conditioning needs. Getting your air conditioner serviced makes sure your system is working properly and not at risk of malfunctioning or breaking down. Maintenance involves cleaning your system and taking care of any little problems before they become big ones. Having your air conditioner serviced even just once a year saves you a lot of hassle in the long run. Mouritz's qualified air conditioning technicians identify issues with your system and get them taken care of ASAP.
Air conditioning repair
Air conditioning repair is sometimes inevitable. Over time, systems accrue wear and tear that can affect their ability to function properly. But it's no reason to worry. By calling a qualified air conditioning technician from Mourtiz, your air conditioner will be back to normal in no time. Our experts know how to examine the system and diagnose the problem without risking further damage to the air conditioner and your family's safety. They'll find any issues and repair or replace the necessary components to have your system running good as new.
Signs your air conditioning system may need repairs
There are five main ways to tell that air conditioning repairs may be necessary for your system. If you see one of the signs, contact one of Mouritz's qualified air conditioner technicians to take a look. 
1. Higher energy bills
Your energy bills fluctuate depending on the season and how much you're using your air conditioning system. But sometimes the increase in bills doesn't add up. This is because when your air conditioner isn't functioning efficiently, it uses more power to achieve the same results. 
2. Inconsistent temperature
Sometimes your air conditioner won't be functioning in line with your temperature settings. You might set it to heat and notice it cooling the room. This problem is common in older systems, which sometimes lose their ability to regulate temperature.
3. Unusual smells or sounds
If your air conditioner is letting off a strange smell, it probably needs to be cleaned or have its filter replaced. Dust, mould and bacteria gather in a system over time, affecting the air quality and letting off odours. If your system is loud or making strange noises, that means it has problems with internal components like fans.
4.  Leaks or excessive moisture
Some systems naturally drip a bit of water from their outdoor components. This is nothing to worry about. However, if you notice a build-up of moisture in the house or too much water coming from the outdoor component, then repairs are likely necessary. 
5. Decreased air flow
Sometimes your air conditioner won't be blowing enough air, regardless of its settings. This means it can't cool or heat the way it needs to. This usually means there is an issue with the compressor.
Commercial air conditioning
Commercial properties use air conditioning on a larger scale. This means commercial air conditioning systems work extra hard. The best way to keep them running smoothly is through regular commercial air conditioning maintenance. The best way to get them running again once they're down is with commercial air conditioning repairs. This means clean air and a comfortable temperature for both workers and customers all over Perth. 
Commercial air conditioning maintenance
Commercial air conditioning maintenance is the best preventative measure to stop problems before they happen. Commercial air conditioning systems are used in offices, factories, retail stores and more. Air conditioning is an important part of a successful business, as it provides comfort and clean air to customers and employees alike. Commercial areas are often large, with air conditioners that run for long periods of time. Sometimes they're on 24/7. This means commercial air conditioning systems use more energy than residential systems. All that extra work puts the system at a higher risk of getting damaged. In a worst-case scenario, a damaged system can cause electric faults or a full breakdown. 
Commercial air conditioning systems are a significant, long-term investment so they're worth looking after. Regular maintenance not only keeps your air conditioning unit running smoothly, but also lowers your energy consumption. This lets you save cash and help the environment at the same time. Mouritz helps business owners all over Perth to maintain commercial air conditioning systems so their businesses can keep running smoothly. 
Commercial air conditioning repairs
Commercial air conditioning repairs are needed when the system at your business shows noticeable issues. Even if you're getting commercial air conditioning service regularly, your system may still get damaged occasionally. Our qualified technicians look at your system and conduct the necessary commercial air conditioning repairs. Commercial air conditioning systems are larger and more complex than residential systems, so it's important to leave them to our experts.
Whatever type of air conditioner you have, Mouritz is able to provide the servicing and repairs that you need. We have been in business for over 45 years, helping clients in Perth, WA, with their residential and commercial air conditioners. We have plenty of happy customers from Mindarie, all the way to Mandurah. Give us a call today if you would like your air conditioner looked at. 
We handle repairs and services for most brands and models, including ActronAir, Bonaire, Braemar, Breezair, Brivis, Carrier, Celair, Cool Breeze, Daikin, Everdure, Fujitsu, Hitachi, Kelvinator, LG, Masport, Panasonic, Pyrox, Regency, Rinnai, Samsung, Teco, Toshiba, and Vulca.
Quick Links
What Our Clients Say
Testimonials

1986 – 2017
#1 National
Fujitsu Dealer

2008, 2017 & 2018
#1 WA
Fujitsu Dealer

2013 & 2012
#1 WA
Bonaire Dealer

2011 – 2014
#1 WA
Actron Air
Dealer

2019
Fujitsu: Australia's Most Trusted Air Conditioning Brand
VISIT US
Over 45 years of providing Residential & Commercial Air Conditioning