Ducted Air Conditioning Perth
Ducted air conditioning Perth is considered as the ultimate entire home cooling solution all year long. This system suits most homes in Perth even those with numerous rooms in multi-story dwellings. This is one of the popular systems of refrigerated air conditioning that Perth homeowners have purchased for their houses. Flexibility comes with this air conditioning system as it can also provide heating, eliminating the need to have a separate heating system installed. With 45 years of Experience in the industry, the Mouritz Air Conditioning Perth team ensures the best units at the most affordable prices.
When you have invested in a ducted reverse cycle AC system for your home, you need to ensure that it continues to operate at peak efficiency. One of the very best ways to accomplish this is with servicing. Unfortunately, many property owners overlook the importance of a ducted reverse cycle air conditioning service, but the Mouritz team is here to explain why you may need to schedule an appointment. To Find the nearest Mouritz Branches in Perth, please see our Perth Locations.
Ducted Refrigerated Air Conditioning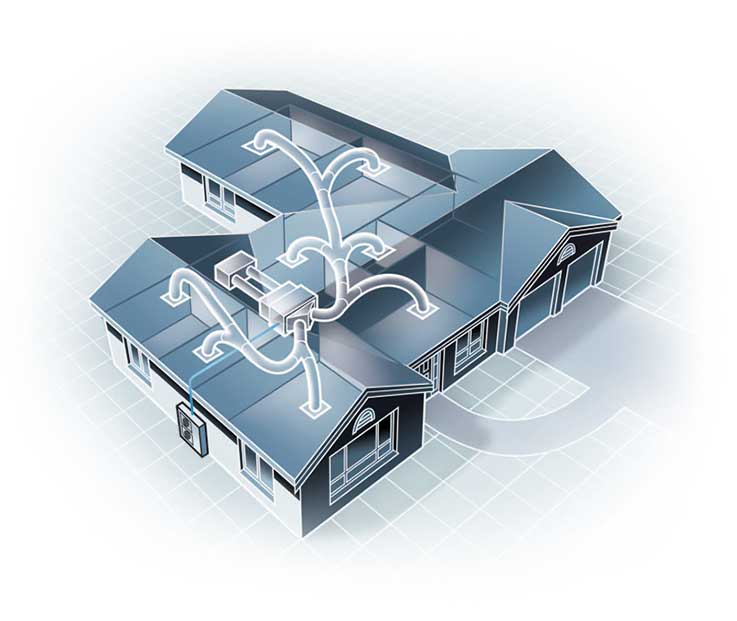 Ideal Application
The ultimate form of air conditioning, a ducted refrigerated system gives you a choice of comfort level all year round. Suitable for most homes or dwellings.
They are perfect for shopping centres and large areas. They usually involve a central location where is the air is filtered and sent into a system of ducts for each room.
If you are still unsure about the benefits of a ducted reverse cycle air conditioning service, Mouritz are here to help for all things air conditioning & solar panel installation Perth. Our team would be happy to discuss any aspect of ducted reverse cycle maintenance, servicing or repairs and schedule your appointment.
How Ducted Air Conditioning Works
A ducted reverse cycle system works using a compressor, coils, refrigerants, and a system of ducts. A pipe in the system containing refrigerant cools the air, which is then pumped into the home through ducts installed n the roof cavity. This system does not display much of the equipment as the compressor is placed outside and the ducts are on the roof, making it an attractive option for those who wish for their air conditioning system to blend in the house and not stand out. A ducted system is one of the refrigerated air conditioning systems which allows for zoning. With zoning, it is possible for you to switch off the air con in parts of your home that is not in use, minimising environmental impact as well as increasing savings on electricity. This system is thermostat-controlled offering a range in temperature from 18 degrees to 30 degrees.
For colder months, we also provide ducted gas heating services for your home.
Pros And Cons Of Using Ducted Air Conditioning
Pros
With ducted air conditioning for Perth families enjoy the following advantages:
Reverse cycle allows both cooling and heating, and with the ducted systems there is better temperature control within the home
Discreet system as the compressor is placed outside and the ducts on the roof can blend with the ceiling
Efficiency and flexibility in cooling or heating through zoning, giving the option to cool the entire house or just selected areas or rooms.
Can operate even in places with high humidity
Long-term use of the system because of long usable lifespan
Cons
Here are some things that come with this type of air conditioning system that you'd want to look into before purchase:
Installation costs can be more expensive as ducted systems are more complex in design
Ducted refrigerated systems typically have high running costs
Doors and windows have to be closed when the

air conditioner

is being used
Ducted Air Conditioning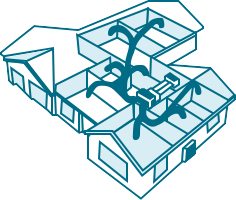 based on
Product description:
Ducted Refrigerated Air Conditioning is designed to cool or heat an entire home and can be a very cost effective solution. A fan draws warm air through the system and over a cold refrigerant liquid, and then cold air is pushed back into your home. Call Mouritz today for more information on 1300 369 690.
Customer reviews:
Affordable Comfort
,
July 08, 2020
I suffered many years being uncomfortable in both summer and winter. Immediately after installation of the Reverse Cycle Ducted air conditioning, the heat went up but the home was cool. Its been 7 months now and the temperature inside hasn't changed. A big surprise is the power bills have substantially reduced and I have money now to spend and sit in comfort.
A Real Life Changer
,
September 06, 2020
From the word go when we were introduced to Design Consultant Edward it was a very simple process, professional, structured, quick and efficient service from purchase to installation. All people involved friendly , professional and efficient and the system works a treat.
Brands That Mouritz Offers for Ducted Airconditioning
Servicing Perth, Western Australia
| | | | | |
| --- | --- | --- | --- | --- |
| Available Models | Classic, ESP Plus, ESP Ultima, Platinum | Inverter Ducted Systems | Inverter Ducted Systems | Inverter Ducted Systems |
| Capacity | 10 to 23 kW (8 – 20 outlets) | 7 – 22 kW (6 – 20 outlets) | 7 – 18 kW (6 – 18 outlets) | 7 – 20 kW (6 – 20 outlets) |
| Operating Efficiency | ESP Plus – 60% energy saving (Coolworld Award Winner) | Maximum Inverter Operation | Maximum Inverter Operation | Maximum Inverter Operation |
| Operating Efficiency | Single and 3 Phase | Single and 3 Phase | Single and 3 Phase | Single and 3 Phase |
| Controller | 7 Day + Home Automation ; ESP Ultima – Individual Room Temperature Control | 7 days programmable backlit; controllers with daily or weekly timers | 7 days programmable; controllers with daily or weekly timers | 7 days programmable; with daily or weekly timers |
What Our Clients Say
Testimonials

1986 – 2017
#1 National
Fujitsu Dealer

2008, 2017 & 2018
#1 WA
Fujitsu Dealer

2013 & 2012
#1 WA
Bonaire Dealer

2011 – 2014
#1 WA
Actron Air
Dealer

2019
Fujitsu: Australia's Most Trusted Air Conditioning Brand
VISIT US
Over 45 years of providing Residential & Commercial Air Conditioning