Split AC Service & Repair Perth
Split system air conditioners are a popular choice as they are affordable and easy to maintain. Our raging home summers mean air conditioning in Perth is a necessity. A split system is a cost effective solution. A split system consists of an outdoor unit which has the condenser, and an indoor unit which contains the fan coil. The fan coil removes warm air from the room and recirculates cool air back in. During winter this can be reversed to warm the room on cold days.
Split systems are great for individual rooms, or multi-head split systems can be installed in multiple rooms each connected to one outdoor unit. Because each unit controls the temperature of a single room, split systems are great when each room needs a different temperature. Another benefit of split systems is that they have filtering and humidity control functions. This is beneficial for anyone with allergies or asthma.
Keeping your split system clean is important for a more efficient air conditioning unit as well as for maintaining the air quality in your home. The filters inside a split system unit catch microbes and dust from the surrounding environment. If they are not cleaned regularly the dust can build up and collect moisture or mould. This is not only bad for your air conditioner as it has to work harder to push air through, but it also affects the air quality of the room. The filters should be cleaned regularly; based on how often you use your air conditioner.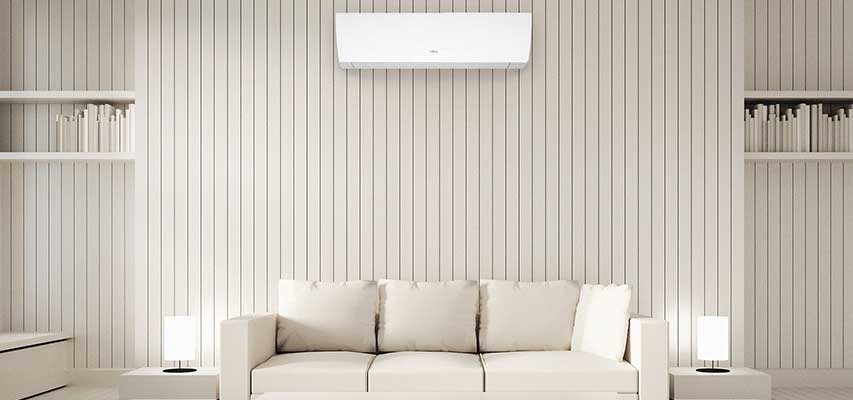 The outdoor unit should be cleaned and maintained as well. Make sure to keep the surrounding area free from grass, leaves, dirt and dust. You may also need to brush cobwebs away regularly. Cleaning your air conditioner is not all you need to do to maintain it, a regular air conditioning service is essential for keeping your split system running efficiently for many years.
A split system should also be serviced by a professional for the more difficult areas, for example, cleaning the condenser coils. This should be left up to a qualified technician as there are safety hazards to consider.
Common signs that your split system may need attention:
Strange noises coming from the air conditioner.
An unusual smell.
Reduced or no air flow.
Water leaking from the unit.
If you notice mould.
Regular services can increase the lifespan of your split system and keep it running efficiently, saving money in the long run. Regular services can help to identify any minor problems before they become more serious. Keeping your air conditioner in good working order allows it to function at its best capacity and last longer than a unit that hasn't been maintained.
The benefits of regular maintenance include:
Reduced power bills.
Increased life of your system.
Maintaining a healthy environment.
Helping your unit to perform at its optimal level.
Reduce potential costly repairs.
For any maintenance or repairs of you split system you can rely on Mouritz, Air Conditioning Perth to provide quality and reliable service. With an in-house service department and a friendly team of fully trained service technicians, any issue with your air conditioning system can be address effectively.
What Our Clients Say
Testimonials

1986 – 2017
#1 National
Fujitsu Dealer

2008, 2017 & 2018
#1 WA
Fujitsu Dealer

2013 & 2012
#1 WA
Bonaire Dealer

2011 – 2014
#1 WA
Actron Air
Dealer

2019
Fujitsu: Australia's Most Trusted Air Conditioning Brand
VISIT US
Over 45 years of providing Residential & Commercial Air Conditioning