Free 5 Years Manufacturers Warranty
Breezair Air Conditioning
Breezair is one of the top providers of evaporative coolers in Australia. They make sure to utilise the latest technology to create the best cooling experience possible. This is especially effective in the hot, dry climate of Perth and Western Australia. Breezair air conditioning gives you a natural, affordable way to keep your house cool and your power bills low throughout summer and beyond. Mouritz has a broad range of Breezair units available to help you beat the heat.
Why choose Breezair evaporative cooling?
Breezair has been providing Australians with high-quality evaporative cooling for a number of years. It is a subsidiary of Seeley, which creates a range of air conditioning products. What sets Breezair apart from its competitors is their commitment to using new technologies and incorporating creative designs. This results in a cooling experience unlike any other on the market. All Breezair products also undergo strict testing at NATA laboratories, which helps substantiate their superior performance in the air conditioning market. Breezair provides a much more natural cooling option compared to refrigerated air conditioners, helping humidify your home to keep plants alive and eliminate odours. To top it off, they run quietly and efficiently, so you don't have to stress about breaking the bank.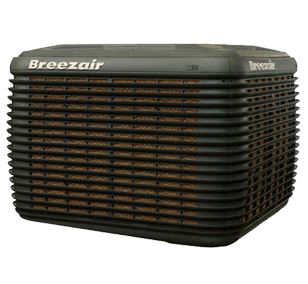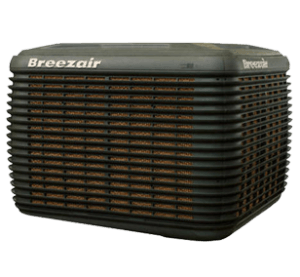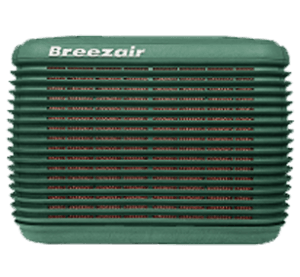 Breezair evaporative cooler models
All the Breezair evaporative cooler models incorporate the high-tech parts that Breezair is known for. By using patented technology, Breezair ensures its models have top-of the line inverters with advanced water management and distribution systems. They also utilise the Black Magic Mini-Cell Chillcel evaporative cooling pads, for even more effective temperature control. All of this runs efficiently thanks to the patented motors and fans used by Breezair units. While all of the Breezair evaporative cooler models operate under similar evaporative air conditioning principles, it's the subtle nuances that distinguish them from each other.
Breezair Extraordinaire XTR Series
The Breezair Extraordinaire range is made to effortlessly blend in with your roof. These units can fit perfectly, no matter the roof angle, and sit well below the ridgeline. They utilise architectural design to act as an excellent complement to your other house features. Their single-piece outer cover allows each unit to seamlessly blend the corners and grille into one state-of-the-art cooler cabinet. These units are an excellent solution if you're worried about an evaporative cooler being too obtrusive to install.
Breezair Icon® EXQ Series
The Breezair Icon selection can be considered the flagship range for the Breezair brand. They have a proven history of success, providing evaporative cooling for many happy customers over the years. They provide natural, energy-efficient and incredibly quiet cooling for the whole household. In fact, these units are proven to help people save up to 80% on running costs compared to ducted, reverse cycle air conditioners. And you can increase your savings even further by choosing cooling settings that minimise power use. Access these using the ever-sophisticated and highly intuitive touch screen MagIQtouch controller.
While evaporative cooling works best with some doors and windows open, the Breezair Icon series gives you some flexibility. Thanks to their security relief vents, you are able to keep the airflow between your house and the outside while keeping your house secure if you plan to go out. These vents store the cool air in the roof space of the home, giving you a refreshing breeze to enjoy when you get home.
There are additional benefits to consider as well. The Breezair range is more environmentally friendly, lowering your carbon footprint and not contributing harmful chemicals to the atmosphere. It's great for the household too. These units increase the humidity in the air, which helps to keep all the plants in the house alive and vibrant. It also helps to eliminate odours and keep the air free of allergens for any residents with allergies or respiratory issues.
Breezair Supercool® EXS Series
The Breezair Supercool range is the most heavy duty amongst the available evaporative coolers. These units bring the highest level of cooling of any Breezair products. They also have incredibly useful features for optimal performance. The Breezair Supercool units contain external air sensors to let you know both the outside temperature and the inside humidity levels. Based on this information, the evaporative coolers are capable of optimising water and energy usage for the most efficient performance possible. Additionally, they are capable of automatically draining excess water when the temperature approaches freezing. This extends your AC unit's life in the long run and saves you even more money.
Breezair evaporative cooler prices
The price of a Breezair evaporative cooler depends largely on the model you choose to purchase. A new unit with a larger capacity will typically include a higher price. Among the different Breezair series, the Breezair Icon range is the most affordable. Additionally, a range of factors contribute to the overall price. The price of the unit itself is an obvious consideration. However, you also need to think about the cost of installing a Breezair evaporative cooler. Depending on the unit chosen and the setup of your home, installation costs may be different. At Mouritz we pride ourselves on providing effective and affordable installation. Feel free to request a quote if you're interested in a price estimate.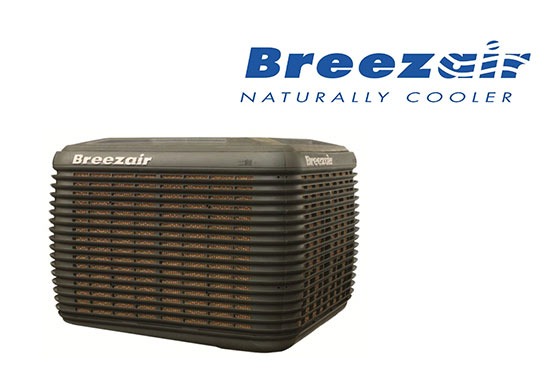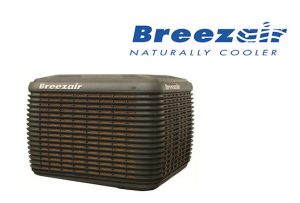 Breezair service and repair Perth
In order to keep your Breezair evaporative cooler functioning effectively, regular servicing is a must. There are several key points that must be addressed when providing repairs or service for evaporative air conditioners. One of the most important components in evaporative air conditioners is the cooling pads. These are what allow the evaporative cooler to create vapour. As part of Breeziar evaporative cooler troubleshooting, it's worth cleaning your cooling pads. If the issues persist and they involve more intricate components within the unit, it is important to call a professional to examine your evaporative cooling unit. To avoid having small issues become large ones, it's worth getting service or maintenance for your unit at least once a year.
So if you're looking for help with a Breezair evaporative cooler, look no further than Mouritz. We don't just sell Breezair units, we also install, repair and service them. We have been helping Western Australians with their air conditioning needs for over 40 years, so let us help you. If you're interested then feel free to get a quote or contact us today!
Breezair: The Ultimate Air Conditioning Solution
Features
Patented components allow for high-level performance.
Maximum efficiency with minimal noise for a comfortable experience.
Controllers let you set timers to cool when you want and how you want.
Warranty lasts a whole five years, giving you security in your purchase.
Installation
Components can be put in discrete areas to avoid hindering members of the household.
Ducts in the roof space have a range of outlets to circulate cool air wherever you need to.
Controls
Controllers make customisation a breeze for any Breezair unit.
Pick the exact temperature you like to maximise your comfort.
Keep your whole house cool, even when you're not at home.
Systems can be timed to help you weekly, daily or whenever you need.
VISIT US
Over 45 years of providing Residential & Commercial Air Conditioning
What Our Clients Say
Testimonials

1986 – 2017
#1 National
Fujitsu Dealer

2008, 2017 & 2018
#1 WA
Fujitsu Dealer

2013 & 2012
#1 WA
Bonaire Dealer

2011 – 2014
#1 WA
Actron Air
Dealer

2019
Fujitsu: Australia's Most Trusted Air Conditioning Brand