Evaporative Air Conditioning Perth
Evaporative air conditioning in Perth works by pumping hot, dry outside air through cooling pads. As the hot air passes through the cooling pads the water evaporates and the head is absorbed, resulting in a cooling effect which lowers the air temperature. The internal fan then blows the cool air throughout the house.
Mourtiz Air Conditioning & Solar Panel Installation recommends this air conditioning system as it works best with the hot and dry climate of Western Australia. It provides a low cost solution for simultaneous cooling of an entire home, especially those with children and pets.

Free 10 Years Structural Warranty
Ideal Application
Perfect for the hot dry West Australian summers and ideally suited to our home designs. Great for growing families, your indoor plants will thrive and any odours in your home are quickly eliminated.
Enquire Now!
How It Works
The unit is placed on the roof wherein its water laden filter pads draw cool fresh air, which is then pumped into the house via ducting in the roof cavity. Stale air inside the house is replaced every 2 – 3 minutes, quickly eliminating odours in the home. This system works even when windows are left open, making it ideal for large homes and those with pets and children.
Enquire Now!
Pros And Cons Of Using Ducted Evaporative Air Conditioning
Pros
Here are some of the reasons why your household can benefit from this type of air cooling system:
Lower cost in terms of purchase, setup, and energy consumption compared to standard or split air conditioning systems.
Environmentally-friendly not just from low electricity use but also because it adds moisture to air in the house naturally, it does not emit greenhouse gases into environment.
A constant supply of cool air is pumped throughout the home all at once with no need for zoning.
Works even when doors and windows are open.
Noise is barely noticeable as the unit is placed on the roof.
Filter pads also remove dust and pollen from the air before it goes into the house
Cons
Even as evaporative air conditioners have their distinct advantages, here are some issues to this system that you should be aware of before deciding if this is the best one for you:
The system requires a steady supply of water to function
It needs consistent air supply from outside
Regular cleaning is necessary in order to avoid accumulation of mold and mineral deposits in the pads, screens, blades, and nozzles.
Reduced efficiency when humidity is high or when it is rainy
Improper installation can increase risk water leaking from the ceiling outlets
Filters do not remove all allergens and irritants from the air
Evaporative Air Conditioning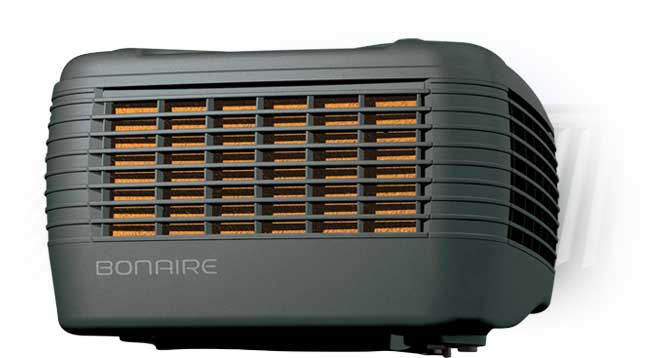 based on
Product description:
A Bonaire Evaporative air conditioner can be likened to a sea breeze as hot air from the outside is drawn through water moistened filters, cooling the air as it is distributed throughout you home. Call Mouritz today for more information on 1300 369 690.
Customer reviews:
First Class
,
November 09, 2019
Very happy with my new Bonaire evaporative air conditioner. The service I received from sale consultant Dylan was first class and he answered all my questions and nothing was too much trouble. Our installation was done in a timely manner and the Mal was polite and did the install quickly and efficiently. I would not hesitate in recommending Mouritz Air Conditioning Perth. Keep up the good customer service!
5 Star Sales Consultant
,
November 23, 2019
We just got our Bonaire evaporative install today and could not be any happier. we had the chance to deal with Jason Curtis as sale consultant. and this guy goes beyond sale. had bit of little issues and he came straight away to sort everything out. This is the kind of services we all expect and receive from Jason. I would recommend this company to everyone and specially ask for Jason.5 stars sale consultant.
Bonaire Models Mouritz Recommends
Bonaire Integra

Bonaire Pinnacle

Bonaire Summer Breeze

Capacity

70 – 210 sqm, 3 – 10 outlets

70 – 210 sqm, 3 – 10 outlets

70 – 180 sqm, 3 – 9 outlets

Operating Efficiency

9 – 10 cents/hour electricity & water ; Around $1 a day to run

9 – 10 cents/hour electricity & water ; Around $1 a day to run

9 – 10 cents/hour electricity & water

Power Supply

10A 240v

10A 240v

10A 240v

Controller

Fully automatic / Thermostat

Single fully automatic remote / Thermostat 3 Phase

Cool / Ventilate variable speed

Warranties

5 years parts and labour (optional 2 year extended)

25 year cabinet warranty

10 year structural warranty

10 year warranty on ductwork components

7 years parts and labour

25 year cabinet warranty

10 year structural warranty

10 year warranty on ductwork components

5 years parts and labour

25 year cabinet warranty

10 year warranty on ductwork components
What Our Clients Say
Testimonials

1986 – 2017
#1 National
Fujitsu Dealer

2008, 2017 & 2018
#1 WA
Fujitsu Dealer

2013 & 2012
#1 WA
Bonaire Dealer

2011 – 2014
#1 WA
Actron Air
Dealer

2019
Fujitsu: Australia's Most Trusted Air Conditioning Brand
VISIT US
Over 45 years of providing Residential & Commercial Air Conditioning