Why You Should Choose an Evaporative Air Conditioner
Evaporative air conditioning works on a principle similar to natural cooling. When hot air travels across the ocean or a river, some evaporation occurs which absorbs heat. This creates a cool breeze, or "sea breeze". An evaporative air conditioner uses the same technique. Hot air is drawn into the unit and passes through moistened cooling pads. The cool air is then circulated through the home.
Evaporative systems provide many benefits, and they are well suited to the majority if Australia; although they may not be suitable for very humid areas.
Excellent Air Quality
One of the best aspects of evaporative systems is that you can leave doors and windows open while in use. Evaporative systems provide a constant circulation of fresh air requiring an open window or door. This means that you won't be getting the same air recycled over and over. You will have a constant supply of fresh air in your home which is beneficial for those who have allergies or asthma. It also benefits the health of everyone in the building by having a constant supply of clean, fresh air.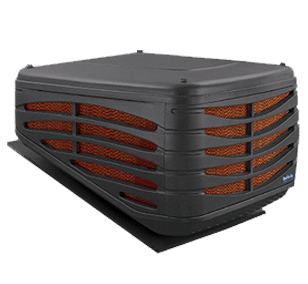 Low Running Cost
Evaporative air conditioners are also very cost effective. Evaporative systems are very efficient and generally cost less to run compared to other types of air conditioners. As well as being cheaper to run, evaporative systems have few moving parts, making it easier and more cost effective to maintain over their life span. The initial cost to install an evaporative system is another benefit, being lower to initially purchase compared to ducted refrigerated systems.
Environmentally Friendly
Evaporative air con is an eco-friendly way to cool your home. Refrigerated cooling systems use chemicals which pollute the environment, however evaporative systems are based on a more natural process involving water. Evaporative systems also benefit the environment by using less energy when compared to other type of air conditioning.
Quiet Operation
Evaporative air conditioning is quiet to run. Not only can you enjoy a good night sleep without stale air, you can also enjoy the peace of an evaporative system without being kept awake by a noisy air conditioner.
Health benefits
As mentioned previously, evaporative systems allow the constant circulation of fresh air rather than recycling the same air over and over, causing the environment to become stale. This provides clean air quality throughout the home which is great for your family's health. Not only this, but evaporative systems bring moisture into the air. This can be beneficial to those who have asthma or allergies, and may reduce irritation to the sinuses caused by dry air.
Evaporative air conditioners provide many benefits over other types of systems. They are more cost effective to run and maintain, while also being cheaper to purchase and install. Evaporative systems are eco-friendly and provide many health benefits for your family. Using a natural method of cooling, evaporative systems are an excellent choice for your summer cooling solutions. To find out more about installing an evaporative system in your home, contact the friendly team at Mouritz Gas & Air today.
Jeff Mouritz Gas & Air Conditioning Perth
Jeff Mouritz
https://mouritz.com.au/
info@gasair.com.au
1300 369 690
11 Yampi Way, Willetton WA 6155
See Google Reviews